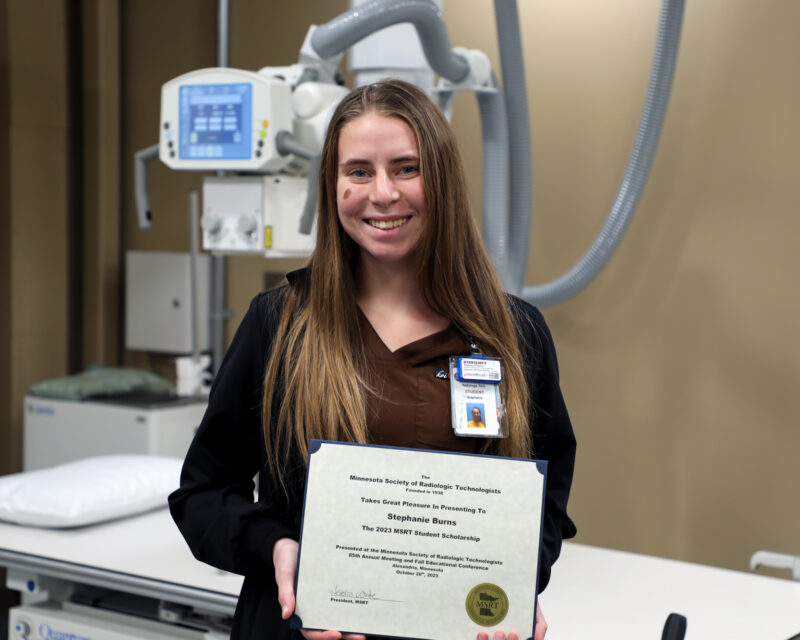 November 8, 2023
A standout student from Northland Community and Technical College earned a prestigious scholarship last month at the 85th annual Minnesota Society of Radiologic Technologies (MSRT) conference held at the Arrowhead Resort and Conference Center in Alexandria, Minn.
Stephanie Burns, a second year student in Northland's Radiologic Technology program, won a $1,000 scholarship, in addition to statewide recognition for being the only recipient chosen by the MSRT for this year's award.
"I am very grateful to have won this scholarship," Burns said, "as it will help me continue to pay for and expand my education. The focus of my application was to understand and align my own goals with the MSRT mission. So I focused on why patient care is crucial, and why we need to maintain high educational standards."
Debra Beland, Radiologic Technology Program Director for Northland, is a vocal advocate for her students, and while excited to hear the news of Burns' award, she wasn't the least bit surprised.

"Stephanie seeks opportunities to improve professionally and advance her education," Beland said. "She continuously pursues advancement in our field. She's an intelligent and valued student in our program, and she represents the very best of Northland."
Northland's Clinical Coordinator, Ryan Tull, sponsored Burns as a member of the MSRT community. After reviewing her scholarship application, he says it was an easy decision to offer his support.
"Her application clearly stands out," Tull said. "It made clear how determined this young professional is in her pursuit of a career in radiology, as well as her desire to add to the field. She earned this scholarship completely on her own merits, and I am proud to see her represent Northland on such a prestigious stage."
About the Minnesota Society of Radiologic Technologies
The MSRT was founded on March 8, 1938, and it was formally recognized by our parent society the American Society of Radiologic Technologists on December 20, 1938. The MSRT has a proud history of representing the needs of professional, registered imaging science technologists in the State of Minnesota and is committed to preserving the profession for the benefit of every patient the membership has the privilege to serve.